The Country House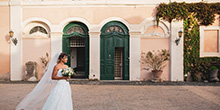 Location of class near Rome, which will be the setting for your most important events.
Details
Wedding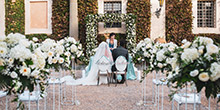 Weddings, receptions, buffets and every opportunity to become unforgettable Falcognana.
Details
The Halls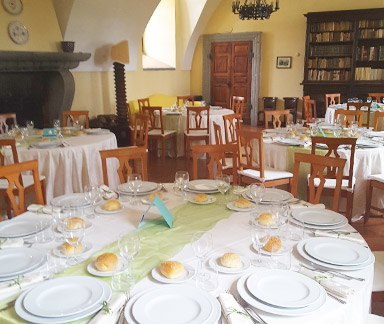 Spacious reception rooms able to evoke the prestige and sophistication of the Roman courts.
Details
Meetings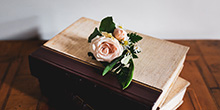 The meeting of the Casale Falcognana offers are complete with every comfort.
Details
The Halls
The lounges in the historical Home (Reception Halls) Falcognana can evoke the old prestige and refinement of the Roman courts. Large windows will allow the warm sunlight of Rome to reach carefully furnished rooms.
Precious tapestries, old and valuable furniture, old style armchairs and shelves full of precious books will transform your pause inside the lounge into a really relaxing moment.
The elegant 18th century courtyard can be your meeting place, where originality and the essence of the art of hospitality find the right balance of charm and harmony.
Equipment and floral arrangements are by Andrea Patrizi.
"The Home" Area
» Sala del "Camino": Seats 80;
» Sala del "Banchetto": Seats 150;
» Totale capacità massima: Seats 200;
"Piano Nobile" Area
» 6 frescoed rooms:
» 150/200persons buffet style;
» 100/150 persons classic banquet style;
(tables of 10)
"Il Giardino Segreto" Area
Outside
» 150/200 persons buffet style;
"La Corte" Area
» Outside space located between the Home and the Giardino Segreto;
» Up to 500 persons buffet style or classic banquet style;
First Communion
First communion banquets are hosted for at least 50 people and prices start from 60 €/person + VAT;
Parking
Large space for up to 150 cars with a separate entrance not visible from the guest areas;